Worn out shoes
On "Vocations Sunday," or the annual World Day of Prayer for Vocations, the institutional church prays for an increase in vocations to the priesthood.
Women are standing on the "prophetic edge" of the church, denied the opportunity to stand in roles of meaningful leadership or ordained ministry. They have worn out their shoes walking the walk of service and ministry to a church that refuses to recognize their contributions and their callings.
Take action with WOC this Vocations Sunday
On April 30th we will call on the Catholic church to notice those whose footprints are missing as they walk the synodal path. We bear the shoes of women who have gone the extra mile for the church, only to find the door to meaningful leadership and decision-making closed.
Catholic women are called by God: called to renewed priesthood; called to equality; called to full participation in the leadership of the church. We know these women, we are these women, and we walk with these women.
We invite you to join our efforts. Inspired by "Pink Shoes into the Vatican" witnesses in New Zealand, we'll be WOC-ing the walk for equality by using the symbol of empty shoes to offer a visual representation of vocations unanswered, those who have walked away, and those walk the prophetic edge of the church, longing for full equality for all of its members.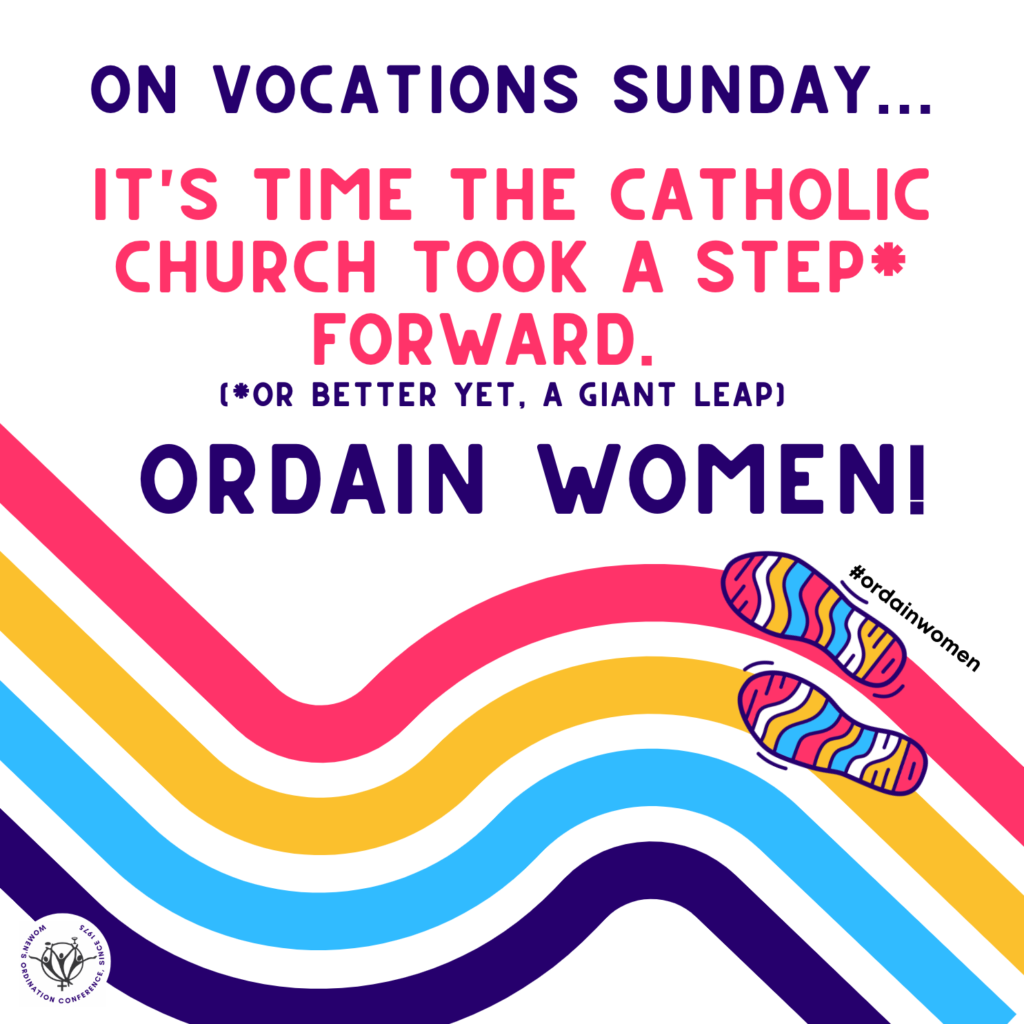 How can I participate?
Take a photo of your shoes with a Vocations Sunday message. You might want to bring them to your local church, or stage them outside in nature. Share the photo on social media using #OrdainWomen or send it to WOC at woc@womensordination.org by April 26.
Share your "Vocations Sunday" message to the church, and help us collect other stories using this form.
Pray for an inclusive Vocations Sunday using our prayer resources and liturgy.
Organize a witness in your community. Download the toolkit, liturgy, and social media resources here.
Join an event on April 30 near you:
United States:
UK:
London:
10:30 a.m. – noon
Westminster Cathedral Piazza
Victoria St., London
Contact Catholic Women's Ordination (UK) at cwoinfo5@gmail.com with any questions.