Anne TropeanoGuest PostMinistry of Prophetic ObedienceMinistry of Walking with Women CalledWomen's Ordination September 2, 2021 | 1
[Editors' note: Anne Tropeano is a 2020 awardee of the Lucile Murray Durkin Scholarship. This is the second of three in a series of reflections from our 2020 awardees on how the scholarship impacted their journey over the academic year. WOC will also be hosting a "Meet Fr. Anne" Zoom event on Thursday, September 2, at 5:30 p.m. MT/7:30 p.m. EDT – register here.]
Elijah went a day's journey into the desert,
until he came to a broom tree and sat beneath it.
He prayed for death saying:
"This is enough, O LORD!
Take my life, for I am no better than my fathers."
He lay down and fell asleep under the broom tree,
but then an angel touched him and ordered him to get up and eat.
Elijah looked and there at his head was a hearth cake
and a jug of water.
After he ate and drank, he lay down again,
but the angel of the LORD came back a second time,
touched him, and ordered,
"Get up and eat, else the journey will be too long for you!"
He got up, ate, and drank;
then strengthened by that food,
he walked forty days and forty nights to the mountain of God, Horeb. (1 Kings 19:4-8)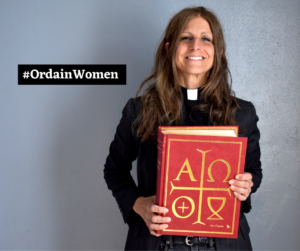 Anne Tropeano
As a woman walking the path to ordination in the Roman Catholic Church, there are countless times that I simply want to lay down like Elijah under the broom tree and give up. The road is often so crushing that I cry to God in my prayer, "This is enough, O LORD—take my life." But, like the angel, the Women's Ordination Conference is sent to my aid to lift me back onto my feet and nourish me for the journey that would otherwise be too long.
In 2020, I had the great privilege of receiving the Lucile Murray Durkin Scholarship for women and non-binary people discerning priestly ordination. A few months prior, and after much wrestling with God over many years, I entered formation with the Association of Roman Catholic Women Priests. I knew it was the right decision, but still, I was tentative—scared even. I was uncertain of what lay ahead and what the personal cost would be. I proceeded quietly with one foot out the door, looking for any opportunity to let myself off the hook and tell God "no." But then came the scholarship: A Roman Catholic organization officially recognized my vocation. It was a validation I didn't realize I needed. In that moment, a profound shift occurred within me: My resolve locked in, and with that shift I started to become an actual priest. I started to become Father Anne.
Since then, the graces have only deepened. Over the last year, I was quoted in an article in the New Yorker(thanks to Kate McElwee), completed my formation, built a website, began preaching each week, started an electronic newsletter, opened social media accounts, embarked on a fundraising campaign, set up an LLC, started hosting online Liturgies of the Word, and established a group of supporters. And to top it all off, I also secured a dream location for my ordination: the breathtaking Episcopal Cathedral in downtown Albuquerque. Through every homily, every phone call, every email, I feel the hand of God at work gently forming my prophetic voice, my pastoral heart, my resilient spirit. Every day, I become more and more a Roman Catholic priest.
WOC continues to sustain me on my path to the mountain of God. WOC mentors me with guidance and advice, feeds me with programs and prayer, inspires me with a fierce and unflagging commitment to God's vision of justice. It will take my entire life to become Father Anne. I am thankful WOC will be by my side.